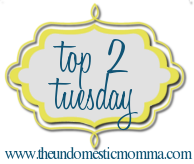 This weeks Top 2 Tuesday is your top 2 favorite Grammy Dresses. I picked 3 of them because I really just couldn't choose. I also added in the last one simply because I think it is quite possibly the worst dress I have ever seen. It for some reason reminds me of the old movie Mermaids with Cher haha
1. Keri Hilson: I abosolutely LOVE this dress. Of course I would never in a million years wear it but it looks great on her. The color really looks great! All around good choice for her!
2. Jennifer Hudson: I must say she looks great. I know she has lost a bunch of weight on Weight Watchers and truely looks stunning! I love this dress too it's sexy but not like OVERLY sexy.
3. Jennifer Lopez: After having twins shes had to have had some surgery there's no way she could look THAT tiny! Well I guess there is a way but come on it seems crazy to me! In the end though I think she does look great and the dress seems really fun!
and lastly I leave you with Katy Perry.... I just don't know what to say except what was she thinking?? She is a beautiful girl so why the heck did she choose to wear THIS?? I just don't get it.... It's almost like something you would see Lady Gaga wearing except Lady Gaga would make this 10 times crazier!
All images came from here

Sara