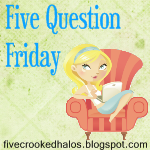 1. Have you worn the same outfit more than one day in a row?
I am sure that I have. Obviously I can't really think of the specific outfit off hand. I know I wear the same jeans a lot.

2. If you had to choose any LARGE city to live in, which would it be?
This one is tough. I haven't been to too many "big cities". I have been to NYC and while I did LOVE it, I don't think I could LIVE there. I too much enjoy living on an Island going to the beach whenever I please and being able to do things you can't do in the city. And Lord knows I wouldn't want to DRIVE in one. My road rage would sky rocket!

3. Fly or drive with the kids on vacation?
I don't have kids so honestly I don't have an answer. But for me PERSONALLY I prefer flying unless its somewhere 8 hours or less of a drive. I like road trips but I get antsy after awhile of being in the car.

4. What is your idea of "spring cleaning"?
spring cleaning? what's that? ;)

5. What is the best book you have ever read?
Oh gosh see this is HARD. I have read a LOT of books that I love. Obviously I loved reading the Twilight Series as most women have. I also read a series called Blood Brothers by Nora Roberts which was AWESOME. AND every book I have ever read by Shiloh Walker I absolutely LOVED. So I can't just pick one book. Now after answering this question I feel the desire to go read which I haven't done in almost a year! I got burnt out I read like 12 books in a couple of months so it's been AWHILE!
Sara