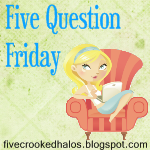 Ok so obviously it's been a week since my last post. I have had a lot go on that it totally blog worthy. BUT my computer at home hasn't been working. So I am waiting for that to happen so I can post pictures too not JUST words. Words alone are boring! haha So hopefully soon I can have some more posts up. Until then.... we bring 5 question Friday!
1. Can you drive a stick shift?
Nope. I tried to learn with an ex bf one time. But the fastest I went was 10mph. I would hardly say thats an accomplishment.
2. What are two foods you just can't eat?
Collard greens are disgusting HATE them. GAG!
Chicken Parmesean I think I spelt that wrong. Oh well! So this one I actually used to LOVE LOVE LOVE that was until I got food poisoning from it. I ate at Fazolis on a Wed night and within I would say an hour at most I got SO sick. So between wed night and Fri morning I lost 10 lbs.... HORRIBLE experience. GAG GAG GAG!!! \
3. Do you buy Girl Scout Cookies? What is your favorite kind?
Well I always try not to buy them. In fact I think I have only bought them once in my entire life. But I LOVE the thin mints and the peanut butter chocolate ones. Not sure the name of them maybe tagalongs?
4. How do you pamper yourself?
Pedicures and massages. Granted this does not happen all the time or anything but I splurge now and again.
5. What is your nickname and how did you get it?
Don't really have one. My sister went through a time where she called me scaramahara thats how it sounds doubt thats how you spell it. haha but it never stuck! Sometimes I get called Sara Lynn or Sara Lee at work... but nothing exciting I promise that one.
Sara