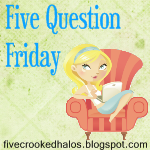 1. What is your favorite Easter tradition?
I wouldn't really call them traditions but I do like to go to church with my parents on Easter Sunday and in recent years actually wear a dress. Then we eat either lunch or dinner. One year we had lunch with our neighbors which was really nice then the next I think we had a family dinner.

2. Are you a "shower" or a "long, hot bath" kind of person?
I am a shower in the morning Long, hot bubble bath in the evening kind of girl. I LOVE to take bubble baths but really at 6am there is just NO time for all that.

3. Can you parallel park and if so when is the last time you did it?
I could in my Volvo but not in my Trailblazer... the thing is too big!

4. What is your favorite Easter candy?
I would say snickers eggs! My mom's favorite are Robin Eggs which I find tasty as well. Oh and nothing beats a Reeses egg either yum!

5. Easter: do you go all out with the Easter Bunny or focus on the religious part of the holiday?
I would say more the religious part of the Holiday? I feel in between on this question because it's not really this or that... its somewhere in the middle! But I would say more towards the religious part and then family time rather than the Easter Bunny.
Sara