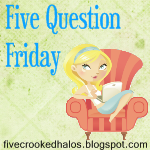 1. Do you and your spouse go to bed at the same time?
Not married! But I would guess if I had one that the answer would be no..
2. A question for the ladies...What kind of facial hair do you like on your man?
None!!!
3. What's the worst vacation you've ever taken?
Um I don't think I have ever had a BAD vacation. I have had some bad points in vacations but not bad enough to call the entire vaca bad.
4. What's the first-ever blog you followed?
Hmmm thats a tough question. I am thinking KellysKorner or even my sisters... or Kayce's haha ok obviously I do not know the answer to this question.
5. Do you enjoy amusement parks?
I LOVE LOVE LOVE LOVE amusement parks!!!!!!!!!!!!!! And I love a good rollercoaster!
Can I just say I am SO happy its Friday!!! This has been a LONG LONG week for me. Probably because I am going on Vacation next week! Today after work I am hitting the gym which is STILL going great. I am 1.1 lb away from my next goal. I am thinking by Sunday I will have hit the goal! :) Then after the gym I am going to walk for the Relay For Life. I am walking for my Bro-in laws dad who has cancer... Hopefully it will be a good experience since I have never done it! Hopefully I can take some good pictures! We are all supposed to wear Alabama Colors. I have ONE Alabama shirt and its big... maybe I can shrink it before I leave the house :)
Ok well back to work!!
Sara