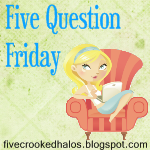 1. Do you know what your REAL hair color is?
I most certainly do. It is DARK brown, so dark in fact most of the time people told me they thought it was black. That is why I started dying it because I didn't want to have black hair. Plus dying your hair is really fun.

2. Do you plan ahead for summer, or fly by the seat of your pants?
Well I don't have anything already planned. I guess fly by the seat of my pants? I mean really the only difference for me with summer is the heat. Still do the same daily routine just might throw in the beach a couple of times and the Splash Zone with my nieces.

3. What is your favorite meal to cook?
Well since I moved back home I haven't actually cooked at all. BUT I love to make Italian Chicken with veggies on the side and whatever other side I feel like making. I made this a lot when I lived in my apartment. So yummy!! Or Teriyaki sp? chicken with zuchini and squash.

4. Do you get offended by not receiving thank yous?
Not really. A thank you is always nice but sometimes things are just understood I feel. If someone seems appreciative just by their actions that is thank you enough for me. I am just not one of those over emotional people so I tend to just let things like that not bother me.

5. How did you meet your best friend?
Well I am guessing our parents got together and had us there as babies? I have no idea technically. I have known Kelly for as long as I can remember. She was the one person I played with all the time growing up. We even had weddings planned for our barbies. I am not talking we planned it in a couple of seconds and made it happen. I remember Kelly actually taking weeks to plan one of the weddings LOL yeah we are special but it's all good. It is funny because her and I are actually SO different but yet she is my very best friend. So I think it is funny how that works.
Go link up for the 5 question friday and read everyone else's answers
Sara